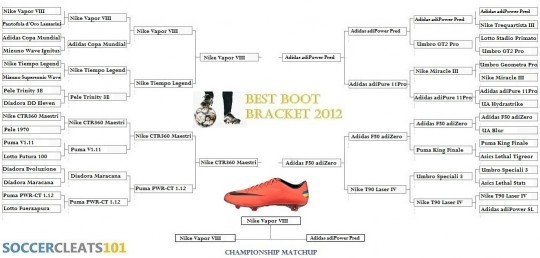 What is the best way to find out what the best boot on the market is? Run a knockout bracket of course and that is what we are going to do!!
Over the next few weeks, we will be putting boots up against each other, head-to-head, and you will decide which boot is more popular via our Facebook page. The rules are simple, the winner of each round advances, while the loser is knocked out.
Above is the bracket we are using with the first round of fixtures penciled in. The current line-up of positions was created by matching our internal stats on each boot with general feedback from players. Rather than running category of boots against each (Power, Speed, Lightweight etc) we are leaving it completely open so that most popular boots end up in the final 4. I will be updating the bracket throughout to keep you updated – click on it to see a larger version.
How to Vote
On our Facebook page, I will announce the 2 boots competing against each other, and in each competition I will let you know how to vote for your chosen winner. Whoever gets the most votes, wins. It is that simple!
To start things off we ran some qualifiers to fill 4 open spots – #23, #27, #31, #32. The following boots went through:
#23 – Economical Winner – Nike Miracle III
#27 – Top SL Lightweight – Adidas adiPower Pred SL goes through.
#31 – Economical Runner-up – Nike Trequartista II
#32 – Other Brands – Pantofola d'Oro Lazzarini
Stay tuned for further updates and the first few rounds to take place! The bracket above will be updated along the way.