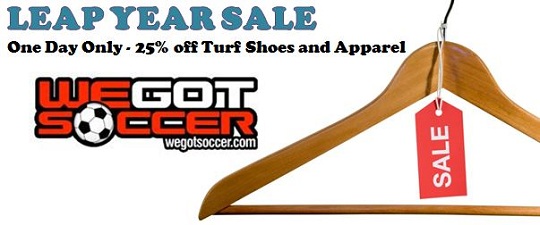 If you are not aware, February 29th only comes about once every four years. Some traditions say it is the one day when a woman is allowed to propose to her man without raising eyebrows, but we here prefer sales and exclusive deals – so, we secured one with the guys at WeGotSoccer.
For one day only, you get to choose from the following deals:
25% off all Apparel – use coupon code

SC101-APP25
Again, that is a pretty awesome 25% off any turf, indoor shoe or apparel purchase on the WeGotSoccer.com site! There are far too many great deals to point out on this one – my recommendation is to head over to the section you are interested in and have a browse!
The deal is good on regular and sale items, plus you have the bonus of free shipping on orders over $75. It expires at midnight, Feb 29th and normal WeGotSoccer terms and conditions apply.
BONUS: Orders under $75 get FedEx Ground Shipping for only 29 cents! (good for orders within the continental US)