I think it is quite obvious at this stage that the all new Nike T90 Laser IV has been released! The latest installment of Nike's power range has been accompanied by a pretty self explanatory slogan: The Perfect Strike! The boot itself has been completely modified to produce Nike's most advanced attempt at the perfect power boot.

In order to simplify this release, here is a simple questions and answers sessions that covers the most common questions i have received from readers:
What is so different about the Nike T90 Laser IV compared to the T90 Laser III?
There are several key differences on the T90 Laser IV, with the new adaptive shield being the most obvious. Nike has moved away from the 5 pod design (seen on the Laser III) and opted for a more textured, spin design. The upper has been re-engineered to allow for a more natural flex, improving how the boot mimics your foot as you connect with the ball. The tongue has also been modified and its shape has been corrected, creating a new type of strikezone. Finally, the blade configuration has been upgraded in such a way that they offer less pressure on your feet, while allowing for a more productive level of traction.
Are they better than the T90 Laser III?
I will tell you after I get to review them – which will start next week at Nike's launch of the new range.
What about weight?
Nike advertise them as 20% lighter than the T90 Laser III – so that would result in a boot that weighs 8.2oz. But, the true weight has been listed as 10oz.

How much will they cost?
They are set to hit the market with a retail price of $220.
What are the initial colorway releases?
The primary release will be in a White/Total Orange/Black. But, Nike are also offering a Black/White/Yellow that features a Kangalite upper.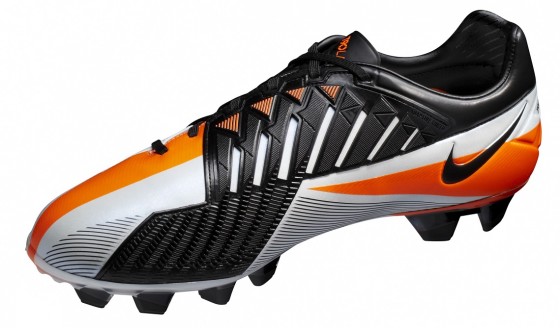 When will we see them on-field?
We have already seen several players, including Wesley Sneijder, wearing them in the past few weeks but Wayne Rooney will be one of the first players to officially wear them in this weekends crunch EPL clash between Man Utd and Chelsea!
Initial reaction from Nike fans on this release has been extremely mixed, and this range has definitely had plenty of critics. The visual design is very different, and that seems to be the area causing most controversy. To be honest, I am personally not overly impressed with how they look. In saying that, I am super excited by the technology Nike has included in the boot and over the next few weeks, I can see opinions swaying to the positives. What is your reaction to the release thus far?
Stay tuned for a more in-depth detailing and review of the boot in the next week, or check out the full T90 IV line-up!