As you might be aware, the New Orleans Saints won their first Super Bowl February 7th by beating the Indiana Colts. Yes I am talking American Football! Something you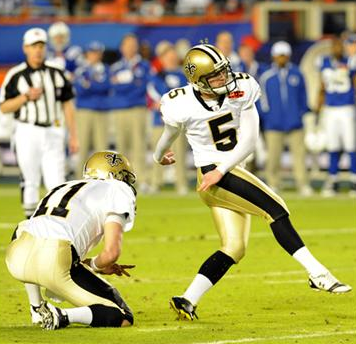 might not have been aware of is the fact that Saints Kicker Garrett Hartley created Super Bowl history by making three 40-plus yard kicks in the same game, all while wearing Under Armour soccer cleats. But what I find to be most intriguing about the whole thing is the fact that he wore 2 different cleats; a Dominate on his kicking foot (right) and a Create on his standing foot (left).
That got me thinking….what properties does each individual cleat hold that makes them suitable for an NFL kicker? Lets break it down, what does a kicker need? Well, first off he needs balance and traction, so he doesn't slip while running up to strike the ball. His standing foot needs to plant and offer optimal support. For shooting, he needs accuracy and protection. His goal is to put the ball high and between the posts, while being prepared in case a defender dives to block his kick.
On his planted foot, Hartley wore an Under Armour Create. The Create fits long, and is supported by a modular protection zone (MPZ), that absorbs shock and offers impact protection for the foot. It also has triangular shaped studs in the forefoot for optimal traction in all directions. While reviewing them I came to the conclusion that they would "become popular with Rugby players, as they offer a  lot of comfort, support and excellent grip".
On his kicking foot, Hartley wore the Dominate. I am a fan of the Dominate and can see why it was his choice for striking the football. The MPZ black area on the front of the cleat, has a dual purpose on these; it helps support the metatarsal bone located in the front of the foot (highly prone to breaking in soccer players) while also enhancing power.I think that fits the bill for any kicker!
So, it all makes sense right! The Create fits the bill in terms of comfort and support, while the Dominate is perfect for someone looking to kick straight and accurate. Hartley had been sporting this combo for the majority of this season and it definitely seemed to be effective. I am sure Under Armour were pretty happy about the fact that Hartley kicked 3 40-plus yard kicks to get into the record book, and I am sure that they will be putting some claim to his record!