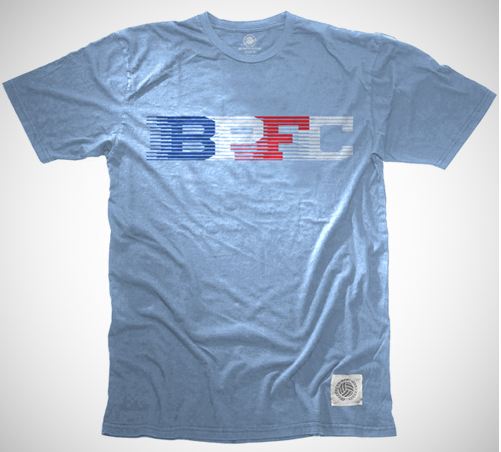 The latest Bumpy Pitch release comes compliments of, and is inspired by, the US Women's performance at this summers World Cup in Germany. Oh, how close they got – but when it comes down to penalties, it really becomes a coin-flip. The BPFC team put something together to remember their incredible effort this summer and the way they inspired an entire nation, and in their own words:
"It's nearly impossible to not have been captivated by the US Women's World Cup run this past month. The team embodied everything that we as US fans love. Besides playing some great soccer, they had an attitude of never giving up and a belief that as a team they could accomplish anything."
The BPFC Heritage t-shirt comes in a summer fresh baby blue and features a patriotic red, white and blue BPFC crest. You can pick one up at the Bumpy Pitch store for $30.
Also, huge congrats goes out to Japan for showing fantastic heart and determination to win a tournament that they were not in any way favored to win. Even in the final, they showed amazing desire to fight back after going behind twice – I honestly thought the game was done after Abby Wambach's goal in overtime. After a very difficult start to 2011, it offers some temporary moments of joy to the a country in mourning, the Land of the Rising Sun.