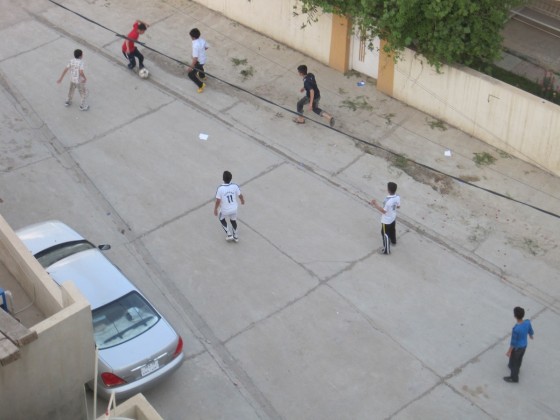 Moving to Iraq would already be a challenging experience without doing it on crutches. But, during my last soccer game with my DC team before moving to the northern city of Sulaimani in mid-2010, I slightly fractured my right ankle. Once in my new city, I knew I had to avoid sports and putting too much pressure on the ankle for a few months. But when on the walk home from work those usual kids were once again kicking the ball around in my new neighborhood, I had to indulge.
After a few minutes of casually passing the ball around and discussing everyone's favorite player and club (Barcelona and Chelsea were tied for most popular), they wanted to see what I was made of. Yes, my ankle was still in the early recovery stage, but who can resist five kids yelling "your moves, your moves! Show us your moves!"
In my work clothes and black Italian loafers, I performed a rather mediocre rainbow over my head, which still seemed to entertain the kids. I juggled a few more times, and then – pointing to the dust all over my dress clothes – used the excuse of not being in proper attire to give the ball back. After all, I wasn't wearing cleats.
But, to be fair, neither were they. Most school-aged and pre-teen kids in Sulaimani, playing largely in neighborhood streets, would normally wear either sandals or general athletic shoes. Their older brothers, by now teenagers and mostly playing on one of the ubiquitous fenced 7v7 turf fields, would sport knock-off cleats bought at the local store for $15-35. While most had brand names that reeked not only of made-in-China but also of not-for-wealthy-countries, many had somewhat questionable Adidas, Nike or Puma cleats.
Regardless of footwear, the younger kids transformed the streets into their own Theater of Dreams. Above are highlights from a match played next to my apartment building. Even teams? Check. Substitutes waiting their turn on the bench? Check. Referee with whistle? Check. Car intruding the game? Check.
Running into those same kids on the way back home from work was one of the highlights of my day. In late June 2010, one of them even gave me a little birthday treat: seeing my home team's jersey proudly worn in an Iraqi street soccer match.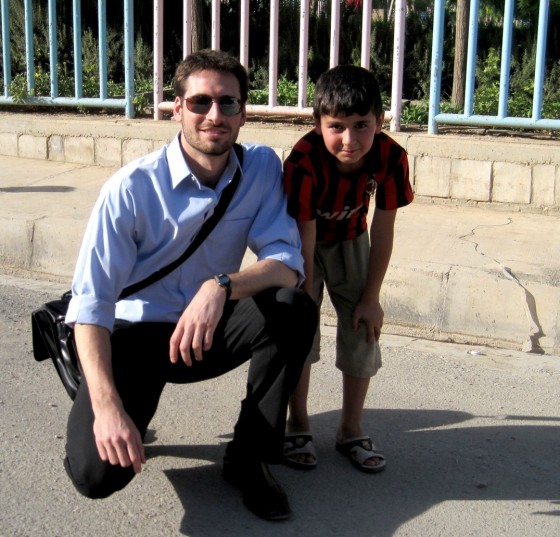 ---
About the author: Elia Boggia was born and raised in Milan, Italy. A tall, strong centerback, Boggia played for an AC Milan satellite club before moving to UC Santa Barbara to play college soccer in 2003. After graduating from UCSB, Boggia moved to DC, and subsequently spent two years working in Sulaimani, Iraq, where he also coached the women's soccer team of a local university. He has since moved back to Boston to pursue a master's at the Fletcher School of Law and Diplomacy at Tufts University. You can keep up with Elia on his Twitter page, or read about his time in Iraq on his (now idle) blog, SarChaw.