A new version of the Adidas Predator X is available to buy, and it comes compliments of David
Beckham! Beckham has been in sparkling form of late while wearing his own personalized version of the Predator X, aptly named the Adidas Predator X DB. His personalized version comes in England red and white, and has a sweet David Beckham pattern and logo on the Predator strike area. The original version have a 3D 'Predator X' logo, so Beckham's version offer something different looks wise. If you have not seen Becks wearing the new cleats yet, watch out for this Friday nights Western conference championship game between LA Galaxy and Houston Dynamo.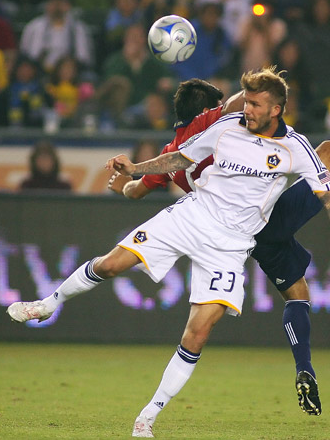 After Reviewing the Predator X, I came to the following conclusion: not only is the Adidas Predator X my choice for 'Surprise cleat of the year', but it will also fall into the 'Best Release of 2009' category! Not only do these cleats look good, but they also offer great comfort and quality. To find out more about the Predator X, check out our full review!
Also Check Out:
Your Opinion of the Adidas Predator X Needed!
Adidas Predator Powerswerve Now on Sale!