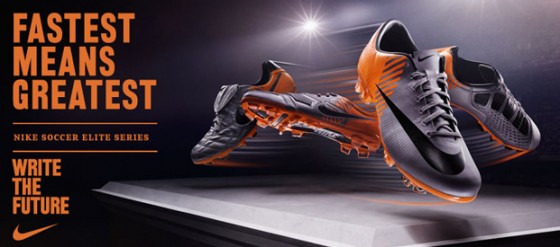 Over the past few weeks, I have received an unusually high number of requests for information and availability of the Nike Elite series that was released during last summers World Cup. Nike's big 4 (the CTR360, Tiempo III, Superfly II and T90 Laser III) all experienced an extreme style makeover that includes a touch up of paint and a tummy tuck (ie reduced weight!) The range was released in an incredibly easy to spot Metallic Mach Purple and Total Orange and made quiet the impact when the World Cup kicked off! I don't necessarily think the range sold very well at first, and I remember last Christmas they were available at bargain prices. Currently, it is pretty tough to find any legitimate listings for the boots – which has quickly increased their curb appeal!
So, I of course went hunting, and ended up finding a pretty sweet jackpot over at SoccerFanatic.com. They still have 3 of Nike's big 4 ranges up for grabs:
Superfly Elite  for $250 (originally $399)
T90 Laser III Elite for $228 (originally $325)
Vapor VI for $140 (originally $240)
I emailed the SoccerFanatic team and they reassured me that they still have several pairs left in each range. They also shared that if you sign up for their email list, you can get an additional $10 off your first purchase – which helps drop the above prices a little lower….and you get free shipping on all orders over $75. All-in-all, this makes for a pretty good deal on a boot that is currently tough to find, and sure to become a collectors edition in the near future.
Check out the line-up of remaining Nike WC boots!