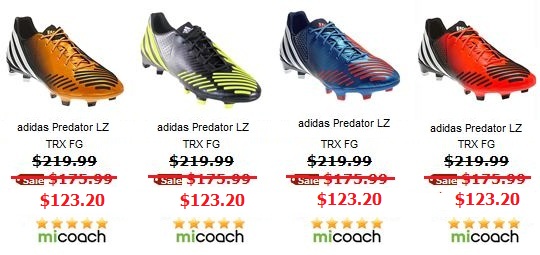 If you are a fan of the Adidas Predator LZ line and are on the verge of needing a new pair of boots, you are going to like this deal! WeGotSoccer are offering up their current Predator LZ inventory to SoccerCleats101 readers for a pretty sweet price, in order to make room for incoming releases in the range.
If you are not a fan of reading, check out the full line-up and prices now.
Basically, WeGotSoccer have dropped the prices of their adiZero range by 20% and when you add on the SoccerCleats101 exclusive code SC101X30SALE (which gets you an extra 30% off) it results in a final price that ranks amongst the best offers you will get for the Predator LZ anywhere, plus it comes with free shipping!
The deal is good on the colorways listed above, or alternatively you can use it on the entire Sale line-up!