Come on now – I couldn't miss the chance to point out the best of Green wear in honor of favorite day of the year – St Patrick's day! I for sure will be decked in green and showing my pride on March 17th, even though I am over 5,000 miles away from home. Please note, this post is not focused on soccer cleats.
After spending some time scouring around the net, here is a selection of the best gear I could find to get you dressed for the day! To be honest, I could have picked 10-20 other items but this is my choice for best of the best.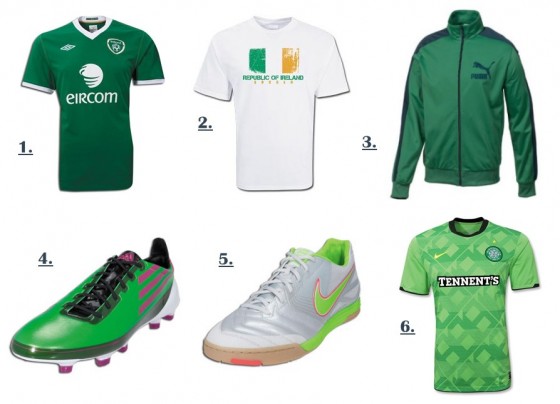 1 – Ireland Home 2010/11 Jersey
Top choice on the list is the Irish national team home jersey. If you are wondering, Eircom are the national phone and internet company in Ireland. Jersey is regularly $79, I found it on WorldSoccerShop for $50 – pretty good deal!
2 – Soccer Pride T-shirt
The front of the t-shirt includes an Irish flag and reads "Republic of Ireland – soccer". pretty basic but I like the design a lot! Available at soccer.com for $17.99.
3 – Puma Heroes T7 Jacket
The colorway is Leprechaun green – I think that says it all! Definitely a good selection to add to your collection. Available at the Puma store for $60.
4 – Adidas F50 adiZero – Intense Green
Maybe you need some new green footwear on the field! 5.8oz of Lightweight, raw speed mixed with the right color for the day. Normally $220, currently $160 at soccer.com.
5 – Nike5 Lunar Gato – Electric Green
Not quiet the right color green, but having tested them a few weeks back, you can out the color aside and focus on performance. These will be my choice for wear next week! $63.99 at soccer.com.
6 – Celtic 10/11 Away Jersey
I couldn't leave out Celtic – a club so many Irish people associate themselves with, even though they are based in Scotland. And I love the current away jersey, it has a pretty dang unique design. If Nike wanted to impress, sending me this as a St. Patrick's day gift would be very much welcomed (hint, hint) $79.99 at WorldSoccerShop.
Annual Ireland vs England game
Also of note, if anyone is in the Los Angeles area and wants to come see the annual Ye Olde Kings Head Ireland vs England game, it will be this Sunday (March 13th), 3pm kick off at Santa Monica High School. I will be playing along with some other very well known Irish people that live in the LA area, including Vivian Campbell (Def Leppard), Keith Costigan (FSC), Frank Lyons (TVG), Mark Hayes (Author + blogger) and a guest UCSB player. I am sure some people might be interested to check out what soccer cleats I will be wearing!