Outside the world of soccer cleats, I have quiet the passion for scoping out soccer related t-shirts. And where better to check out than the Bumpy Pitch line – inspired by everything soccer! I'm not sure if you have ever worn one of their t-shirts but they are insanely high quality and they are super soft. I recently spoke to the guys at BPFC and as a result we are going to be featuring some of their gear here in SC101.
Starting things off is their newest release, the Rose City x Clive Charles t-shirt, which has a pretty awesome story behind it. The front design is really and I love the fact there is plenty of meaningful intricate details included. The below info comes directly from the BPFC press release.
This graphic and shirt hold a particularly special place for us (the BPFC team) as the inspiration for it can be found in a figure that played a huge role in our lives.
We had the pleasure of playing for Clive Charles on the US Olympic Team back in the day (Dunny much longer than myself). Clive was an amazing human being and coach. I'm sure anyone that ever met him, played for him, was a teammate, etc would tell you the exact same thing.
We've wanted to pay tribute to Clive in our own way for quite awhile. But it's never been an easy thing to do and finding the right medium and message always needed to be done correctly. As a Portland institution and Timbers legend, the launch of the Portland Timbers in MLS this year seemed to provide the right time for us to do something for Clive.
We partnered with the Timbers Army and the 107ist on this to help continue to build the movement that these good folks have been building for years.
For those that dig into design elements, we made sure we put in a couple that pay tribute to Clive. His initials and retired number are featured on one of the axe handles, with the opposite handle seeing a nod to 2009 and the year that Portland was awarded an MLS franchise.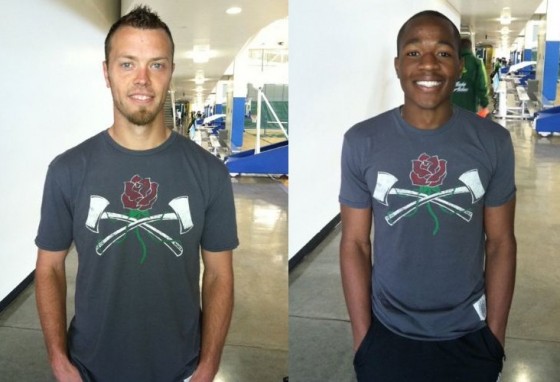 The t-shirt is currently available at BPFC. The t-shirt has already been repped by pro players including Portland Timbers duo Jack Jewsbury and Darlington Nagbe (as seen above.)