Back in 2003, while I was playing at UCSB, I had the unique opportunity to be part of the testing team for Pony. At the time, Pony were trying to work their way into the soccer market and spent a lot of time putting together some pretty technical boots. One of the boots they introduced to start was the Pony Pinnacle, and I still have a pair of the SG version.
These boots have a very unique design. If you look at the front you will notice there are plenty of creases and lines. These were strategically placed to allow the upper to move in sync with your feet, bending in the right areas to give you a super comfortable fit. On that end they succeeded and these boots were super comfortable, with a fantastically snug fit. But, the colorway is completely off and looks way too boring. I am also not a fan of the tongue, although I cut it off on the pairs that I wore and it looked significantly better.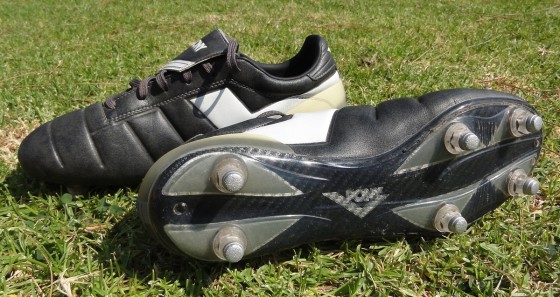 Just before release of the Pinnacle on to the market, we spoke with the Pony team and questioned the overall construction of the Pinnacle. As I said above, they are not a very good looking boot, and even though they weigh in at a lightweight 9oz (which at the time of release was one of the lightest on the market!) we didn't see a large audience taking to the new range. As it turns out, that ended up being the case – and soon after, the company gave up on the project. Pony did however, come up with one other unnamed, unreleased design on our recommendation in a white colorway, which featured some fantastic sweet spot technology. I am convinced that if this boot had been released, Pony would have been onto a real winner!
To date, I haven't came across anyone else outside of my circle who still has a pair of these classics – If you have anything in the Pony range, or a boot that you are interested in having featured as a Cleat Archive, send it my way for consideration!