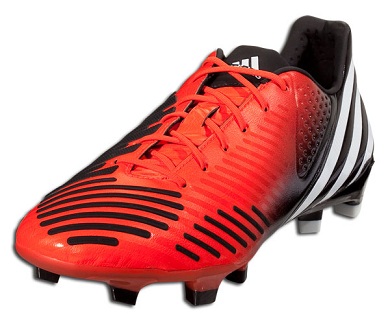 This past weekend, I had the opportunity to attend the official US launch event for the new Adidas Predator LZ, and while there we were treated to a live viewing of several colorways. One of those colorways was this second installment, which comes in a Infrared/White/Black. Although the colors used don't necessarily represent the traditional shades we associate with the Predator range, they do blend in well with what is an all new type of Power boot! You get a black into red fade about mid-upper and it creates a very modern look.
Ultimately, this colorway is not going to win me over but it did look good with the Liverpool kit in the FA Cup final this weekend and even though these boots don't ship until June 1st, I have no doubt there will be plenty of pairs pre-ordered before then! Note, they are currently available to pick-up from soccer.com.
So, what makes the new Predator so different from previous editions? On this release, you get 5 different areas where technology has been employed, producing 5 different levels of performance. Rather than being a Power boot, this latest release is more of a hybrid that offers players more control right throughout their game. The 5 Lethal Zones are as follows:
The large First Touch zone has recessed ribs to cushion impact and stop the ball. It's a vacuum effect for instant control.
The Drive zone has a raised and thicker 3D shape following the natural curve of the instep to help create rebound distance and open the game.
The Dribble zone is designed for quick contact with the ball and close control.
The large Control/Pass zone is memory foam with a sticky coating on top. This ensures consistency, precision and killer passing.
On the Sweet Spot zone 3D ribs ensure longer contact with the ball to generate speed and spin.
As is the current trend with new releases, the upper has been re-engineered to combine the properties of a leather and synthetic upper. The material used is a mix of synthetic and a new Hybrid SL, adding an interesting twist to the release. The real test will be how they perform in game – something I will update on after this weekend. The Predator Zones are each composed of a SL rubber that adds a new element of control.
In terms of weight, they come in at 8.0oz, which is just a slight bit heavier than the adiPower Predator and is definitely lightweight for a power boot. Within the soleplate, Adidas has again placed a cavity for players who want to take advantage of miCoach technology.  Finally, they are going to have an initial retail price of around $220.
As reference, stay tuned for more details on the Adidas event from this past weekend!