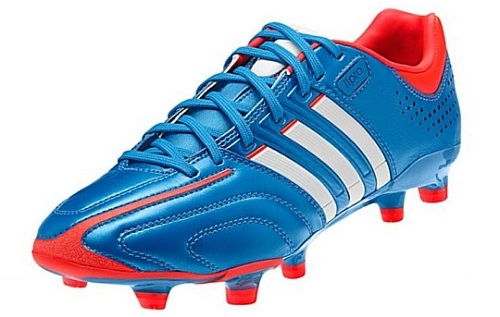 Adidas has released their latest colorway in the Adidas adiPure 11Pro range, and there is something a little bit familiar about the look of this one. Listed as a Bright Blue/Running White/Infrared, this colorway follows the same combo of colors we have seen on other recent Adidas releases – and in my opinion this one is extremely sharp.
Other boots to feature a similar look/colorway combo to this release include the recently unleashed Predator LZ and the F50 adiZero. Each range offers its own take and mix but the one thing that is consistent is the positive feedback players have been sharing about the look. I have a strong feeling that this adiZero release will also receive a positive reaction from fans. Adidas has kept things pretty consistent throughout the history of the adiPure, but the 11Pro version strays well away from the norm. Not only has Adidas dropped the weight, but they also re-engineered everything that we expect from the adiPure!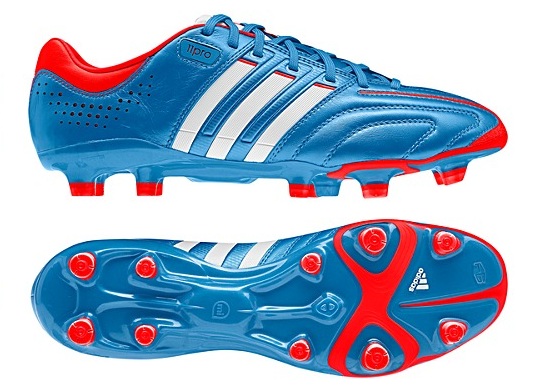 A completely redesigned upper.
A synthetic Taurus leather is used on the front, with a synthetic saddle employed through the 3 stripes on the midfoot for added support. We are familiar with seeing K-leather used on the adiPure series, but with the recent upgrades to their Taurus calf-skin upper, Adidas has changed its direction. I have pointed out on several occasions that Taurus leather has a downfall; durability. Well, Adidas has actually addressed that area and added an ultra thin layer of protection, called Duracoat, to areas of high abrasion. Well played Adidas!
More soleplate changes.
On this version of the SprintFrame, you get a new Flexzone (improves flexibility and enhances lateral movement) and PlusFlex (outsole is split below the toes for higher energy efficiency through movements), with miCoach performance tracking technology also included.
Conical studs – goodbye blades.
This could be one of the shock features of the boot. Adidas has re-engineered its traction by introducing dual cushioning conical studs that feature internal anti-shock tubes. They are designed to be more abrasion resistant, while improving surface penetration – improving traction and speed.
Weight
Trimmed down to an ultra competitive 8.2oz. The adiPure IV weighed in at 9.8oz.
In an unusual move, Adidas has actually released this colorway directly on their site before other retailers. Right now, they have them listed for $150 with free shipping!