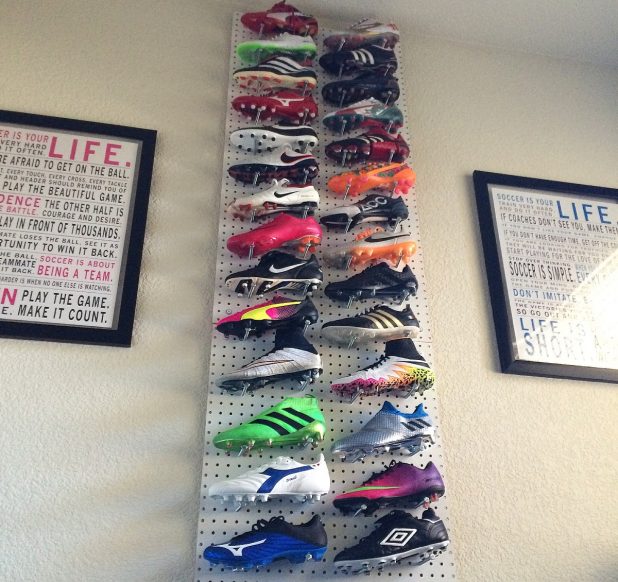 Over the past few years, we have seen a dramatic rise in the number of "boot collectors" out there. These are the folks that have a true passion for soccer boots and love the rush of seeking out and owning pairs that other folks can only dream of seeing in person one day. It is the increase in the number of Limited Edition releases as well as Instagram that has played a hugely influential role in how it has happened. Instagram, in particular, is an incredible tool that has allowed fans to really showcase their new boots to a much wider audience, to other players that want to learn more about what new and old boots have on offer.
Because I receive a lot of boots, folks tend to immediately think I'm a boot collector. But I don't put myself in that category. Having come from a pro level, my concern with boots is finding out how they perform on pitch, what they have to offer in tight spaces and how they feel to strike shots. So I'd label myself a serial tester. I do have a boot wall, as pictured, where I showcase some of my favorites, but it is not as extensive as what collectors put together. And most pairs I have up on the wall I've worn at some stage. It takes a lot of discipline to be a collector; you need to really pay attention to the market and then keep the boots in pristine collection after you put your name on them.
For that reason, I wanted to start a new feature on the site called The World's Best Boot Collectors, where we can meet the real boot collectors out there, learn more about them and see what awesome pairs they have boxed up.
And first up is dlbootroom.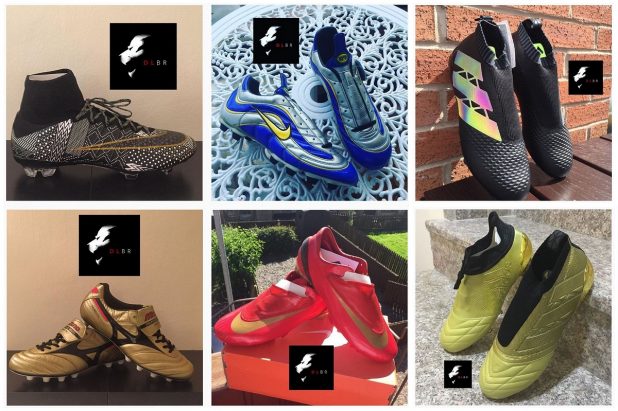 How long have you been collecting boots and how did it all start?
I bought my first pair of limited edition boots in around 2008/9 and they were the David Beckham Adidas Predator Ying Yang Pulse boots, They had been out for a few years by then but I saw them in a random search on eBay and bought them! As a player in the late 90's and early 00's it was all about the Adidas Predator for me and so when I initially started collecting it was to collect the Adidas Predator in the original colourway, That was all I wanted but then as time has gone on the collection has expanded into new areas,
What have you got in your collection?
Well this is an open-ended question! Basically I buy boots that I like! I still try to keep an eye out for rare Preds when I can as for me they will always be the greatest boot silo to be made. However when I started collecting Nike were doing some amazing limited edition boots and I bought a few pairs of them too! Then the collection has expanded into a whole host of things, I have some Pele sports, Reebok, Lotto, Pantofola d'Oro and Puma in my collection too. I also dabble in match worn boots too and have a couple of pairs but it's not an area I'm too interested in getting involved in as the prices are crazy! One day I do hope to add a piece of genuine CR7 match worn boots but they are hard to get.
I also have every CR7 and Messi signature boot to date and do like keeping those collections up to date.

Your favorite pair is?
Funnily enough people can never guess my answer to this question. They go through my pics on IG and guess but it's a little different to my choice. I am lucky enough to own a pair of Puma X Hublot Falcao Special Edition boots and they are stunning. 60 pairs worldwide and to get the boots you had to buy a watch priced at 15,000$! I was lucky enough to be contacted by a company looking to sell just the boots, they were wondering if I had a price for them and after a few hours we had agreed that I could buy them. It often doesn't work this way but I was delighted with them. Yes I have quite a few pairs I really like but to date I don't know another boot collector with the Hublot boot so it makes it that little more special! I am still looking for the Black/Gold version of the Evospeed Hublot boot too and hope one day I can own them!
What is the craziest thing you've done to get a pair of boots?
I flew from Qatar to Barcelona in 2015 to get the Messi 10/10 boots! I left Qatar on the Thursday evening, landed on Friday morning, queued outside the adidas performance shop overnight, bought the boots at 11am, back on the plane at 3pm and got back to my house Sunday morning at 4am ready to go to work at 6.30am! One hell of a trip and I was gutted not to be able to make the trip to New York this year but being a school teacher I couldn't make it as it was a Monday!!!
Can you guesstimate how much you've spent on boots?
In all honesty I have no idea. I buy and sell a few boots to make it more affordable but it's still an expensive hobby especially with resale value on the hard to get boots. I wish Nike and Adidas could find a way to help collectors out and ensure they were able to get them to add to collections before the resellers sell them for up to 5 times the retail price. I have quiet periods where I don't spend too much but then companies seem to go crazy and release so much stuff in a short space of time which then gets expensive!!
Do you have any tips or advice for new collectors?
Just focus on what you want and stick to it. I want brand new in box now but when i started collecting I bought a few slightly used boots and it was just wasting money. If your going to wear the boots then fair enough but when collecting to keep its best to pay the extra for brand new. Also if you miss out on a new limited edition boot don't pu the asking price for a few days. Often if you wait a week prices can drop a little as the hype around the boot will die down and they can be left with the boot. In all honestly when I started collecting I was told by a friend, who I shall refer to as Yoda, that always wait for what you want and don't rush as more often than not the boots you want will finally find you and it's true. I have wanted boots for quite sometime and then all of a sudden someone will offer them to me. Patience is very important!
Speak to collectors and help each other out. I chat a lot with a small group of collectors and we will help each other out to get boots at retail price etc but collectors can help offer advice etc….
Finishing up, there is a few things we need from you here.
First, let the boot collector know what you think of their collection below and feel free to leave them any questions.
You can find dlbootroom on Instagram.
Then, let us know if you have a collector that just NEEDS to be featured. We need your input in finding the best of the best collections!
Thanks to Derek for taking the time to be first in our "World's Best Boot Collectors" series!