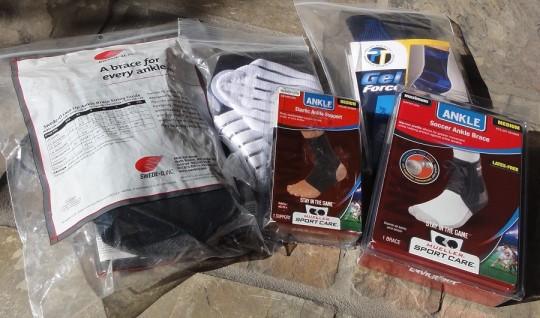 Whether it is a twist, sprain or torn tendons, any sort of ankle injury absolutely sucks! Seeing as so much of the action takes place down by our feet, ankle injuries are just a part of the game and at some point in your career, you are probably going to get one. A few weeks back I actually twisted my own ankle and as a result needed to find a good support to help me through my rehabilitation. With so many different products on the market to choose from, it can be quite a daunting task finding the right one – as I encountered myself.
So, I decided to get a selection of Soccer Specific Ankle Supports to test in order to produce an effective guide for anyone else that finds themselves in that situation!
Ankle Supports – The following are listed from least to most supportive:

1 – Mueller Elastic Ankle Support – Available for $6.99
Provides reinforcement for stiff, weak or sore ankles while helping to prevent rolling.
Designed for more of a moderate level of support, this brace is not one you want when recovering from injury. If you are concerned about getting injuries or are prone to the odd ankle sprain, then this is an option. I personally found this one to be the most comfortable options as it is pretty thin and the contour design helps prevent any bunching. Again, there is nothing overly complicated about it but it simply works if you suffer from stiff, weak or sore ankles. Very similar to the Pro-Tec Ankle Sleeve, offers excellent value for money.
2 – Pro-Tec Ankle Sleeve – Available for $9.99
Provides warmth and compression for sprains, strains and inversion injuries.
A very moderate option that simply provides added compression and support as you recover from light ankle sprains. This brace is actually very similar to the Mueller Elastic Ankle Support except for different materials that are used. It is a very snug fit and definitely helps when you need added warmth to get your ankle moving. I did find it can feel a little slick in your boots as you sweat, something to note.
3 – Ace Bandage – Available for $9.15
Provides relief at any time, allowing you to control the compression applied and of course at the best price.
The age old, tried and trusted option that comes with any first aid pack you buy! Honestly, the ace bandage offers one of the best options you will fiind on the market. Why? First off, you get the consistency of knowing any ace bandage will fit the same as the other. Then there is the reliability of knowing it won't fall apart after a few wears and the ability to use it on an ankle, knee or hand injury! Even if you decide to pick up one of the other braces, having an ace bandage in your bag is a must.
4 – Pro-Tec Ankle Wrap – Available for $18.99
Provides the stability of a figure 8 wrap with the comfort and compression of a Neoprene sleeve.
Out of all the braces, this one seemed to make most sense out of the box. You get your regular ankle support with an additional level of compression, via the white wrap that encloses your foot. Wrapping is very easy to do and there is nothing complicated about it – and the end result is a very tight lock around your ankle, with out being restricted. The one negative I has was that it did feel slightly bulky in my boot.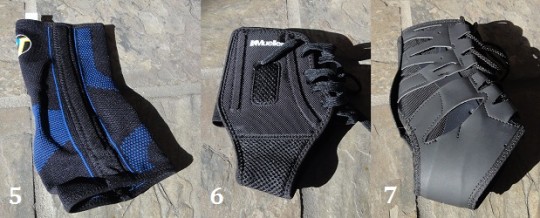 5 – Gel Force Ankle Support – Available for $16.99
Provides comfortable stabilization to ankle and absorption of dynamic forces.
If you have suffered a minor ankle injury and want a brace that will allow you to play while soaking in some of the pounding your ankle takes running in a 90 minute game, this support could be the best option on the market. Not only is your ankle wrapped, but you also get extra absorption via the gel inserts located on both ankle bones and the flexible bars that run along the medial and lateral sides. Note that it is actually pretty tough to pull off your foot and I did find that I needed to loosen the laces on my boot to ensure it felt totally comfortable.
6 – Mueller Ankle Brace – Available for $24.99
Provides support for weak or injured ankles and protects against ankle sprains.
If you need an ankle support that offers different levels of compression, this is a great option. Having the laces allows you the opportunity to really tighten the brace up when you  have an injury but need to play, but also allows for a loose feel after recovery. It is actually one of the more comfortable braces to wear, especially the squishy underfoot wrap. If you just have a mild sprain, this will be a brace that is a little too advanced.
7 – Swede-o Tarsel Lok Ankle – Available for $40.99
Provides maximum protection from injury, while offering treatment and rehabilitation benefits.
This is without a doubt the most supportive brace and there is a lot going on with it. If you are in need of a support to help prevent future injuries, this is the one you want! But because it has so much going on, it will be uncomfortable for the first few wears (to be expected as it adjusts to your foot shape). I actually struggled to get the tight feel at first and had to adjust the laces for a period before jogging in it. Thermoskin Thermal support is used in this brace – let me just say it is very advanced, and in reality it deserves its own blog post to fully understand!