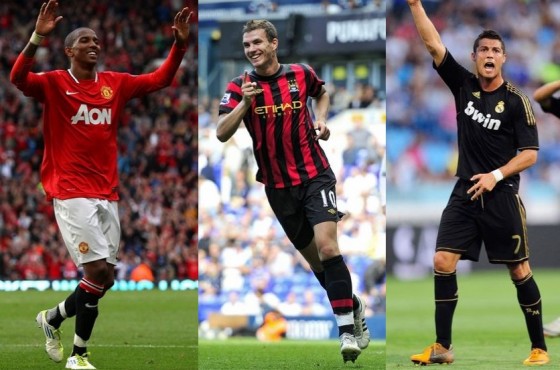 There were some fantastic performances this weekend, with plenty of goals scored and several players who made big impacts on their debuts. Here is a short summary of the big performers and who was wearing what.
Wayne Rooney – 3 goals and 1 assist in Nike T90 Laser III
Manchester United put in an amazing display to trounce a very much under strength Arsenal side 8-2. Rooney, wearing the Nike T90 Laser III, got a treble and set up another goal to take his Manchester United tally to the 150 mark. All 3 goals came from set-pieces.
Ashley Young – 2 goals and 3 assists in Adidas F50 adiZero
One of the top players in the EPL so far this season has been Ashley Young, and he continued to impress with 2 absolutely cracking goals, while also creating 3 others. Young was wearing the Adidas F50 adiZero in White/Slime.
Edin Dzeko – 4 goals in Adidas adiPure IV
Manchester City made a statement with a comprehensive 5-1 win away to Spurs. Dzeko managed to bang in 4 goals while wearing a pair of Adidas adiPure IV, giving renewed optimism that he is an integral part in City's push to the title this season. He has to find a way to keep Tevez and Ballotelli on the bench!
Samir Nasri – 3 assists in Adidas F50 adiZero
New City signing, Samir Nasri, put his Arsenal woes behind him by getting 3 assists on his debut, while wearing a pair of Adidas F50 adiZero's in Electricity. It seems Nasri is as confident as ever and he immediately payed back some of the big money City spent on him.
Cristiano Ronaldo – 3 goals in Nike Superfly III
Real Madrid opened up the season with a comprehensive 6-0 win over Real Zaragoza. Ronaldo was, as you would expect, a key catalyst in the result. He opened the new La Liga season with an impressive hat-trick, while wearing the Nike Superfly III in the Orange Peel colorway.
Lamar Neagle – 3 goals in Adidas adiPure IV
The Seattle Sounders were pretty unstoppable on Saturday, scoring 4 goals in the first half. Neagle grabbed his first MLS hat-trick in style while wearing the Adidas adiPure IV. What makes this performance even better is that Neagle was playing left midfield!
Juan Mata – 1 goal in Nike Superfly III
Chelsea's newest signing wrapped up his debut (off the bench) with a goal that sealed a 3-1 win over Norwich. Spanish international, Mata, was wearing a personalized pair of the new Granite Nike Superfly III and he looks like a player to watch this season.
Jordon Henderson – 1 goal in Umbro Geometra
With 9 center midfielders to choose from at Liverpool, making an impact is vitally important. Henderson, a summer acquisition from Sunderland, scored his first goal for the club in a pair of the highly rated Umbro Geometra Pro.